Finally. Season 3 of Love Is Blind has broadcast all episodes, including a reunion, and we now know which couples exchanged vows and are still together.
Well, this season was quite an adventure. In addition to viewers cringing at Andrew's fake cry and wondering how much the players are paid, we've spent a great deal of time speculating which Love Is Blind season 3 couples would remain together and who would be married.
This season's episodes were released in numerous parts: the first three episodes were released on 19 October, the second set of episodes was released on 26 October, and the last episode was released less than two weeks ago accompanying a reunion. Which couples are still together at this time?
Are Matt and Colleen Still Dating Each Other?
In the last episode of Love Is Blind season 3, the couple chose to get married at the altar in 2021 even though they still had some problems working out. The couple looked happier and more in love than ever at their wedding, which looked like a lot of fun.
Colleen and Matt from Love Is Blind spent their time together after their wedding getting to know each other better and working on their relationship as a couple. During the reunion episode, they said that they were still not living together. Then, in Love Is Blind: After the Altar, the couple looked for a home together for the first time.
Love Is Blind's success rate isn't always the best when it comes to long-term relationships, but the relationships it has helped build tend to be strong. Matt and Colleen went through some problems that could have made them stop trusting each other, but instead, it made them stronger. As one of the happy couples that came out of the show, the couple seems stronger than ever as they go through their new lives together.
Matt had trouble trusting Colleen around other men because she had hurt him in the past. Even though he said he knew she really cared about him, it was clear from the start of their relationship that he had trouble trusting her. When he saw her talking to Cole in a way that wasn't always just friendly, his guard went up.
Matt said he was going to leave Colleen, but she talked him out of it and said she was sorry for upsetting him. Once Matt had calmed down, he told Colleen that he needed to face his trust problems and that he and Colleen would work on them together.
Are Brennon and Alexa Still in a Relationship?
Alexa and Brennon are married and very happy. Brennon says, "We talked about all the important issues in an honest way on the show, which is why we fell in love so quickly and so deeply."
The two are also thinking about having children. Brennon thinks that Netflix will give a baby gift with a Love Is Blind theme. He says, "We'll have to ask Netflix for a golden baby bottle."
Alexa also gave sound advice on finding love. "I recommend marriage to everybody. Find your person, find your one. Don't get married to just anybody."
Now that they're married, they have two rules: they always dance to their wedding song, and Brennon says, "We made a deal when we got married that whenever we go out, she gets to dress me because I don't have a good sense of style."
Related Post:
Are Sk and Raven Still Together?
After the Love Is Blind reunion, SK and Raven have disclosed their split amid allegations of cheating.
Announcing a joint statement of separation on Instagram Stories, they stated, "We regret to inform you that we have chosen to part ways. Due to the ongoing legal actions involving these charges, we are unable to share further information and ask that you respect our privacy during this difficult time.
"Thank you for believing in us and following our tale. This journey has irrevocably altered our lives, and we are so appreciative to everyone who has had a role in it. Your love and support are irreplaceable."
Allegations that SK cheated on Raven and was in a relationship with another woman precipitate their breakup. In addition to their breakup statement, he has not explicitly replied to the charges.
On the Love Is Blind Reunion, SK and Raven disclosed that, although not being married after he said "I do not" at the altar, they are now dating as boyfriend and girlfriend.
The first Love Is Blind wedding occurred in episode 9 (which was released on November 2), when it was revealed that SK rejected Raven at the altar. Despite their mutual affection, he stated she was unwilling to compromise, which would not make for a happy marriage.
The couple created an emotional connection in the pods but struggled at first to develop a physical connection on their honeymoon. Later, when the couple met the other four pairings, it was evident that Raven and Bartise still have chemistry from their time in the pods.
Related Post:
Are Cobra Kai, Cast Mary Mouser and Xolo Mariduea Dating in Real Life?
Raven has been sharing insights about her friendship with SK on TikTok since the start. A screenshot of him licking his lips with the phrase "A sexy Nigerian who stares at you like this" was included.
The Story of Nancy and Bartise
One of the most shocking moments in Love Is Blind was when Bartise stated "I do not" to Nancy after she had said "I do" at the altar.
The show then revealed that her family was horrified by her decision. They had not seen each other since the wedding and were not dating throughout the Reunion.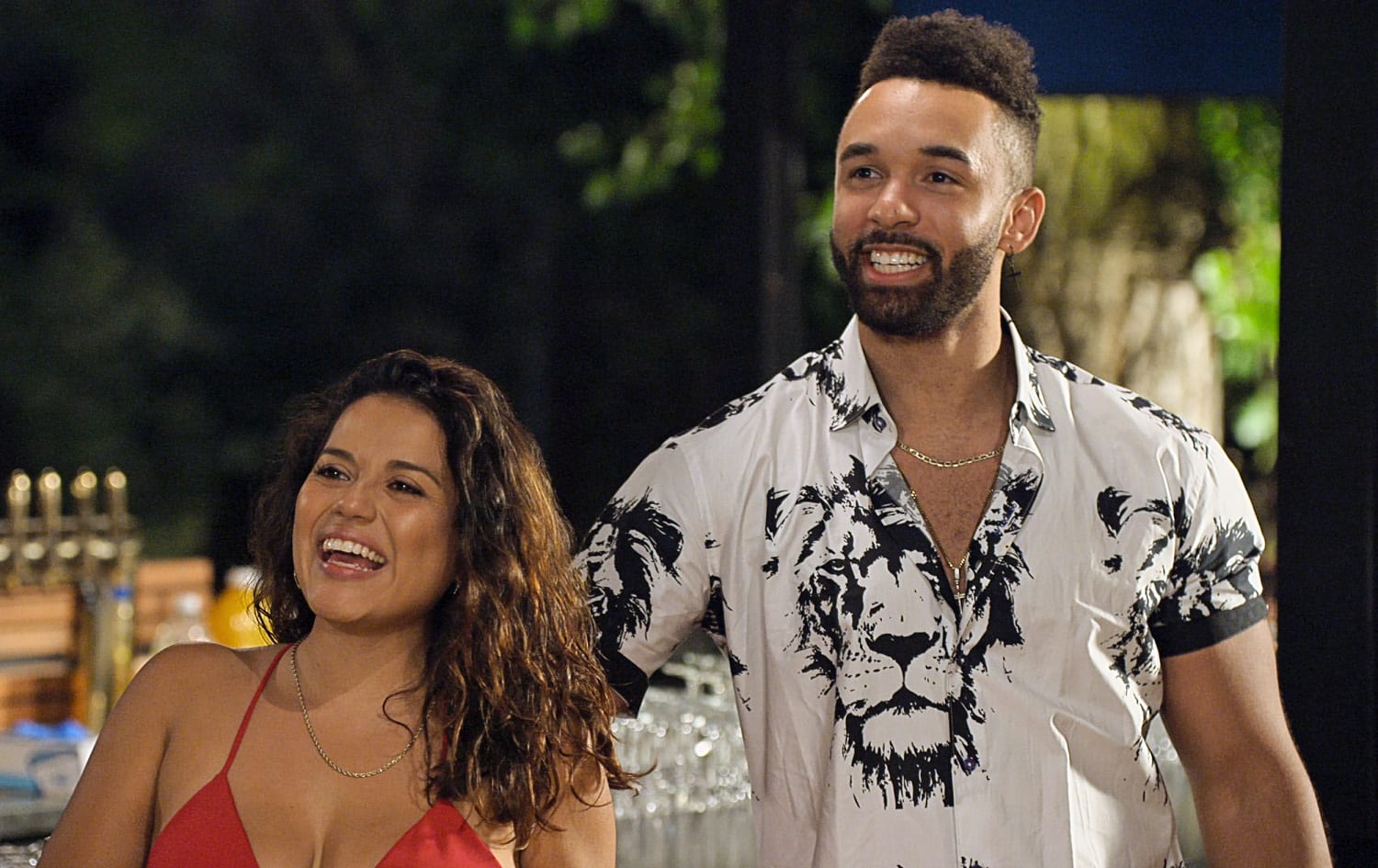 Nancy, a 32-year-old real estate investor, and Bartise, a 27-year-old senior analyst, saw a bright future ahead. They had a tremendous connection, became engaged quite quickly, and couldn't stay away from one another.
During a later stage of the experiment, Bartise met Raven, with whom he had also built a bond in the pods. In one scenario, he gushes to Nancy in bed about how gorgeous he finds Raven: "I adored meeting Raven for the first time. Raven is the kind of lady I would pursue in real life.
She walked down wearing such tight things, and I thought to myself, 'She's a f***ing smoke show,' she's that gorgeous.
Related Post:
Who is Rubi Rose Dating Now? Also Explore Her Early Life, Net Worth and Quick Facts
Although Nancy was naturally offended by the remarks, the couple was able to move on and maintain their relationship. In episode nine, the couple meets at the altar. Nevertheless, fate had other plans: the couple is no longer together after the wedding.
Zanab and Cole Dating Status
Wow. After stating "I do not," Zanab informed Cole that he had "destroyed her self-confidence" at the altar, a statement that completely blindsided him.
The duo disclosed at the Reunion that they had not spoken since the wedding, with both Cole and Zanab wishing the other would reach out.
Cole (a 27-year-old realtor) and Zanab (a 32-year-old flight attendant) were one of the most unexpected couples to emerge on Love Is Blind season 3.
They fought over the definitions of the words "good" and "great" and were unable to create a deeper relationship after meeting in person.
Zanab was also concerned that Cole still had emotions for Colleen following their poolside flirtation. They acknowledge that they are each other's type and would approach each other at a bar if they had met in real life. Eek.
The second batch of episodes, which debuted on 2 November, saw the two overcoming this obstacle by meeting Zanab's friends and family, however, Cole's parents disapproved of the experiment, which put a wrench into the works.
After seeing one other's apartments, Cole and Zanab got into an altercation that led to them questioning each other's marital intentions. Frankly, it did not appear appealing.
Related Post:
Love Is Blind Season 4 Confirmed By Netflix: Air in 2023
Despite the fact that we now know they are not in a relationship, Zanab did post an Instagram grid photo of her and Cole in the pods with the caption "In the pods." "Who has come to hear our love story? This is one of my most treasured memories"
Cole remarked, "Our revelation is my favorite memory and my greatest excitement in life. #cozé"
Wrapping Up
I hope you get all the information about "Love is Blind Season 3; Which Couple Are Still Together?"
Share this post with your friends and family if you enjoyed it. Also, comment on this post with your thoughts. Bookmark our website for more interesting posts.
Stay Happy and Stay Healthy!