Based on the Edo van Belkom novel, Wolf Pack is a Paramount Plus original supernatural teen drama. The show centers on two teenagers who find themselves with strange new abilities in the wake of a wildfire that decimated the neighborhood and awoke a great and ancient force.
We'll soon learn that Everett and Blake are not the wolves' first prey; this is not the first time something similar has occurred in the area. Having said that, stay with us as we bring you the release schedule for the first season of Paramount's Wolf Pack series if you enjoy werewolf shows with a side of horror and teen life.
Read more: Paramount Announced the Premiere Date for Wolf Pack Season 1 Episode 1
Wolf Pack Season 1 Episode 1 Recap
An officer exiting a vehicle at the start of the episode notices a massive forest fire that is slowly engulfing the entire city. On a school bus, everyone appears to be slowed down by the fire. We first meet Everett on the bus as they are evacuating his office, and he is talking on the phone with his therapist until they tell him to get off.
It's the eyes for me – love them! #WolfPackTVShow #WolfPackOnPlud LINK: https://t.co/bB7uaaTVf6 pic.twitter.com/zIBzN8uXuu

— WolfPackWiki (@WolfPackTVWiki) January 24, 2023
Everett and the other children notice the fire engulfing more and more of the ground a short while later. They also observe that individuals are evacuating by driving away in their vehicles. When one child causes a disturbance and exits the bus, a great number of animals flee the fire and stampede, everyone.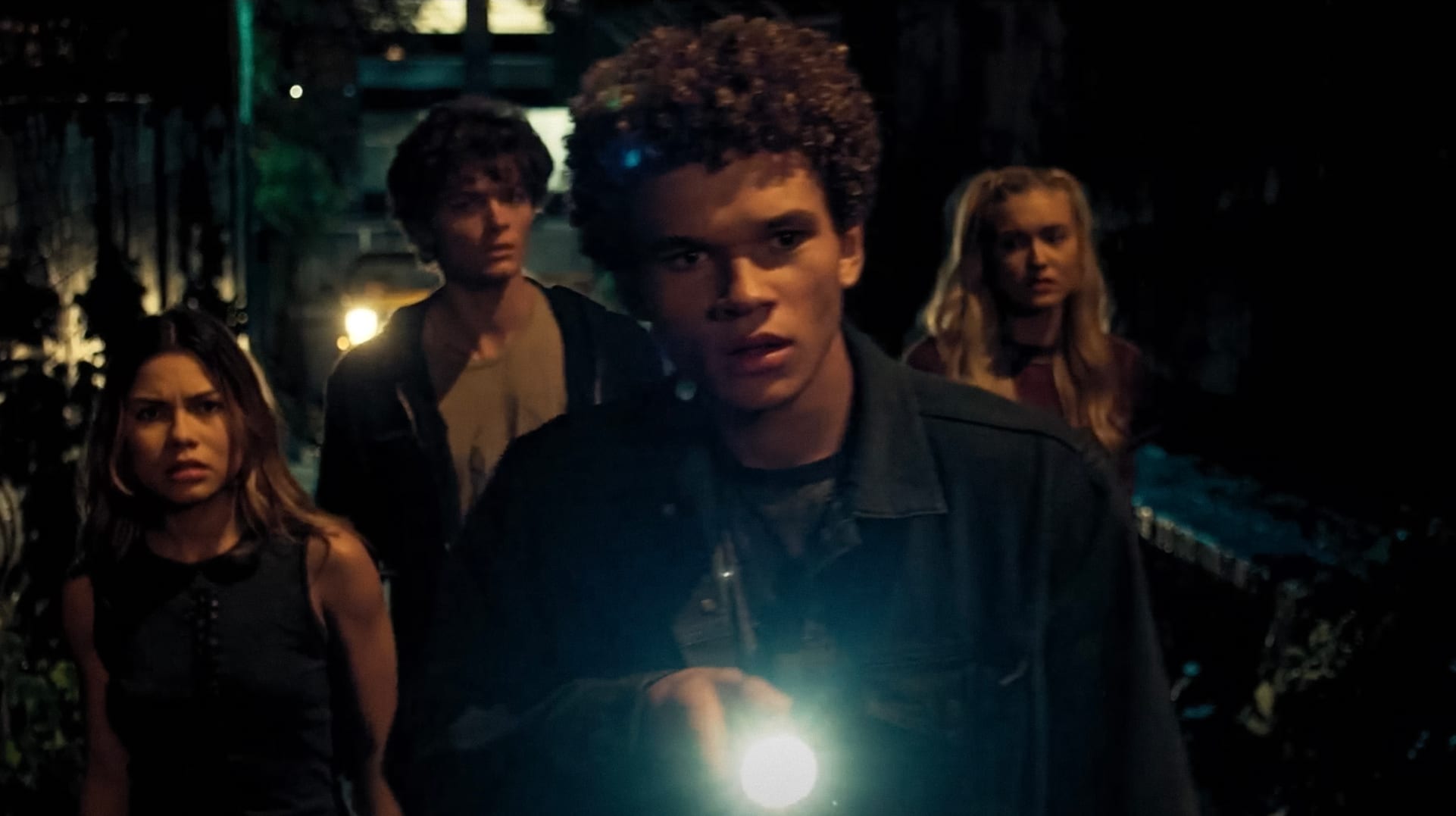 Off the bus, we witness Blake saving Everett from a speeding car. The pair then departs in opposite directions, but not before we notice that they have bite marks on them. To try to get his shoulder examined, Everett goes to the hospital. When he is finally returned, his body starts to exhibit strange behaviors.
He receives a phone call warning him to leave the hospital immediately or else something will kill him. Harlan is introduced to us as he enjoys himself and dances in a club. We observe that his sister has sent him numerous texts about his father's disappearance.
Also read: The Owl House Season 3 Episode 3 Release Date Time & Where to Watch
Luna shows up to see if Harlan can help her and their siblings find their father while he is having fun. Despite the fact that the full moon is still a few days away, Harlan and Luna mention that they feel heavier than usual.
Find your pack. 🌙
Episode 1 of Wolf Pack is streaming now on @paramountplus. #wolfpackseries pic.twitter.com/OSPQSUB5j3

— wolf pack (@WolfPackOnPPlus) January 26, 2023
To speak with Everett at the hospital, the police showed up. He had already walked out of the hospital to look for Blake though. Both Harlan and Luna discover their father's truck, which has been destroyed.
Police officer Kristen calls Everett to ask for his assistance. She suggests that the fire may have been started by someone on that bus. She implores him to assist her. As soon as she hangs up the phone, a loud noise prompts Blake, Everett, Luna, and Harlan to move to a particular location. At this point, Blake and Everett acknowledge their transformation into wolves.
Wolf Pack Season 1 Episode 2 Release Date
On Thursday, February 2, the second episode of Wolf Pack Season 1 will air. The show has a weekly schedule and each week's new episodes air at the same time.
The title of the second episode is "Two Bitten, Two Born," and based on that, we know what to expect. Regarding airtime, the series is on demand and will be accessible via streaming on the regular schedule:
Pacific Time (PT);12:00 a.m
Central Time (CT);02:00 a.m
Eastern Time (ET); 03:00 a.m
United Kingdom (GMT); 07:00 a.m
Central Europe (CET); 08:00 a.m
Where to Watch Wolf Pack Season 1?
New song february 17th! Oh and Wolf Pack ep 1 dropped today??? pic.twitter.com/xdsTC3XKeQ

— Armani Jackson (@ArmaniJackson) January 27, 2023
Wolf Pack is available on Paramount+. One of the most eagerly awaited shows in January is an original series. The presentation The cheapest Paramount+ membership costs $4.99 per month, and there are subscription options available outside of the US as well. The monthly cost of the premium plan without ads is $9.99.
How Many Episodes Will Wolf Pack Season 1 Have?
The first season of Wolf Pack will have ten episodes and premiere on January 26. This implies that, if everything goes as planned, the conclusion should air on March 30.
#WolfPackTVShow https://t.co/iR1Fjhh025 pic.twitter.com/cTzxexyqAJ

— WolfPackWiki (@WolfPackTVWiki) January 20, 2023
It's still too early to make any predictions about whether a second season will be produced. An overview of Wolf Pack's entire debut season is provided below, along with the anticipated air dates:
| | |
| --- | --- |
| Wolf Pack Season 1, Episode 1: | From a Spark To a Flame," January 26, 2023 |
| Wolf Pack Season 1, Episode 2: | Two Bitten, Two Born," February 2, 2023 |
| Wolf Pack Season 1, Episode 3: | Origin Point," February 9, 2023 |
| Wolf Pack Season 1, Episode 4: | TBA," February 16, 2023 |
| Wolf Pack Season 1, Episode 5: | TBA," February 23, 2023 |
| Wolf Pack Season 1, Episode 6: | TBA," March 2, 2023 |
| Wolf Pack Season 1, Episode 7: | TBA," March 9, 2023 |
| Wolf Pack Season 1, Episode 8: | TBA," March 16, 2023 |
| Wolf Pack Season 1, Episode 9: | TBA," March 23, 2023 |
| Wolf Pack Season 1, Episode 10: | TBA," March 30, 2023 |
Final Words
For more information Visit our website to find out about a wide range of reality shows that are coming up or already on. You can find out about many other TV shows and online series through our website.