When will Overwatch 2 be released? Overwatch 2, which was first revealed at BlizzCon 2019, has had a difficult development period. While the developers wanted to keep fans up to date on Overwatch 2 updates, the departure of game director Jeff Kaplan, among other Blizzard developments, put a temporary halt to this.
Blizzard announced plans to decouple the FPS game's PvP features from the PvE systems in March 2022. This change allows players to get their hands on Overwatch 2's PvP multiplayer modes right away. With the release of Overwatch 2 only a few days away, there's plenty to look forward to before the first season begins.
When Will Overwatch 2 Be Released?
Overwatch 2 will be released on Tuesday, October 4 at 12pm PT. It is worth noting, however, that the initial launch will be entirely focused on PvP and will bear the 'early access' label.
Blizzard has been tight-lipped about a specific release date for the game since its announcement. That is until the announcement came during the Xbox & Bethesda Games Showcase 2022 event.
The Mighty Ducks: Game Changers Release Date, Cast, Plot, Trailer, and What to Expect!
Even with an initial release date set, the exact rollout remains a mystery. While early access offers the full PVP experience, with new maps, a new mode, and three new heroes, it is unclear when PVE will be added. We only have 2023 to go on for now, so it could be a while before the full package is available.
Overwatch 2 Trailers
Check out the trailer for the release date below. This brief snippet also gave us our first glimpse of Junker Queen.
A group of well-known characters from Overwatch 2 reunite to fight the Omnics once more. A group of the robotic adversaries is depicted in a terminator-style animation besieging an unprepared Paris, but Winston, Mei, Echo, Tracer, Brigitte, Mercy, Genji, and Reinhardt stop them in their tracks.
But the invasion doesn't stop in Paris; in Rio de Janeiro, our merry band of heroes is seen battling more deadly androids. The gameplay's actual appearance is also partially hinted at by this trailer.
Overwatch 2 Platforms 
Overwatch 2, like its predecessor, will be available on PlayStation 4, Xbox One, Nintendo Switch, and PC. These platforms include the recently released PS5 and Xbox X | S Series, as well as previous-generation hardware such as the PS4 and Xbox One.
In terms of crossplay, the game will support players playing together across all platforms, as well as cross-progression.
However, according to John Lafleur, technical director, in a Reddit AMA, Overwatch 2 on Switch will have "some compromises":
Drunk Lyrics Game: for Americans, How Do You Use the Drunk Lyrics Game Filters?
Overwatch 2 Plot
We've only seen a snippet of Overwatch 2's story so far, but there are a few hints. The story of Overwatch 1 typically focuses on the collapse of Overwatch, frequently looking back at what happened to the freedom fighters and the Omnic Crisis, which was a robot rebellion against their human creators. This time, however, it appears that the story anticipates the second Omnic Crisis and a possible reunion of Overwatch.
Overwatch Heroes
Sojourn is one of the newest Overwatch 2 heroes; as a founding member of Overwatch, she is familiar with the main cast of characters and is capable of dealing significant damage. She is armed with a rapid-firing energy rifle and a railgun that, when fully charged, has the potential to rip enemies to shreds.
Junker Queen is the game's most recent tank hero. Junker Queen, unlike most tanks, spends a lot of time on the offensive, dealing a lot of damage in order to quickly heal herself with her passive ability, Adrenaline Rush.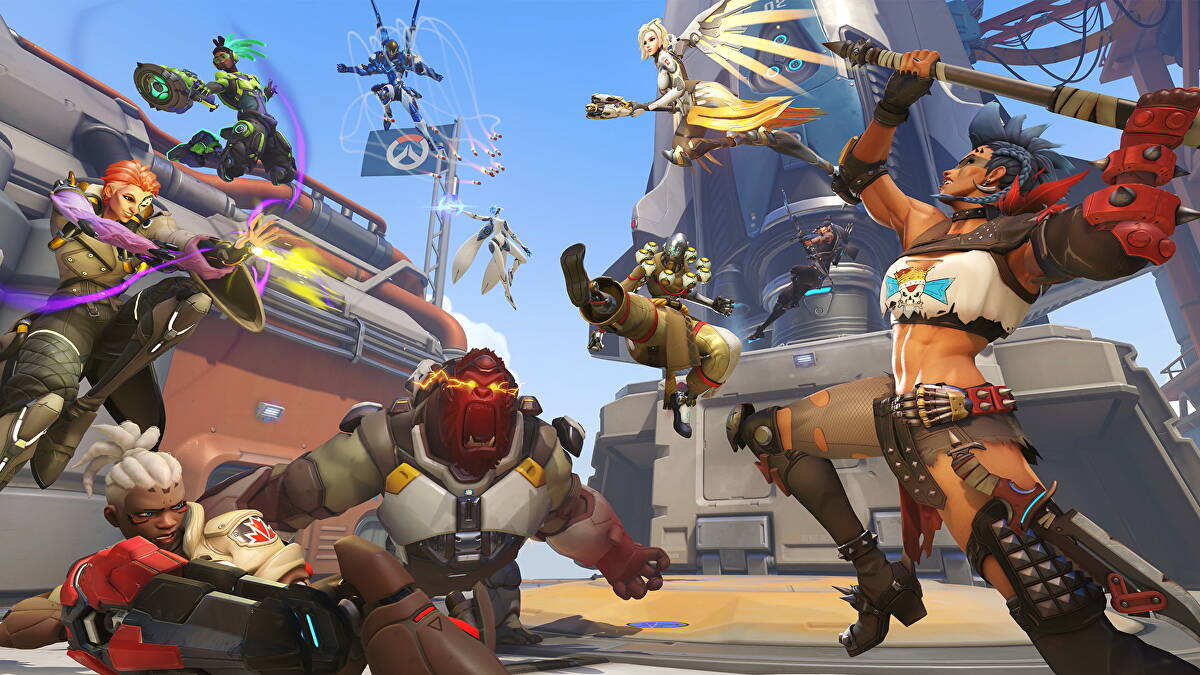 Kiriko, a unique hybrid of a healer and a DPS hero, is the final Overwatch 2 hero available at launch. Kiriko was designed to attract DPS players to the support role because she has great mobility like Genji and Hanzo, as well as a strong Ulitmate ability that gives your team a massive attack and speed boost.
Maps for Overwatch 2
Blizzard has confirmed that six new Overwatch 2 maps will be available during the first season:
Circuit Royal
Colosseo
Midtown
New Queen Street
Paraiso
Esperanca is a push map set in Portugal.
Every alternate season, more maps are added to the game. The next map will be released sometime during season three.
What happens to Overwatch 1?
Overwatch 1 will be phased out in the near future as the sequel completely replaces it. While the upcoming title will be released on October 4, the first game's servers will be shut down on October 2 to prepare.
This means that on October 2, fans will be able to enjoy 6v6 modes, the original graphics, and the current state of balance before everything changes.
Squid Games Season 2: Who is the Squid Game Season 2 Leader?
So there you have it; everything we currently know about Overwatch 2. our site will do everything possible to keep you up to date on the highly anticipated sequel.