Lyle Lyle Crocodile, a new musical film about an unconventional friendship between a schoolboy and his singing crocodile friend, is set to hit theatres soon.
Will Speck and Josh Gordon are directing the film, which will be their fifth feature film together. Blades of Glory, The Switch, and Office Christmas Party are among their other projects.
It's an adaptation of the same-named children's story with a great cast, including singer Shawn Mendes in the lead role, providing the voice of Lyle the crocodile.
When Mama's Geeky asked why they chose to make the film adaptation a musical, the directors explained: "The truth about great musicals is that when all else fails, you can only express yourself through song. So, for us, the most important aspect of the adaptation was its transformation into a musical."
Everything you need to know about Lyle Lyle Crocodile is right here…
When Will Lyle Lyle Crocodile Be Released?
Lyle Lyle Crocodile will be released in theatres around the world on October 7, 2022. It was supposed to be released in the summer, but it was pushed back to the autumn.
There is no word yet on whether it will be available on streaming services.
Read More: Netflix Jennifer Lopez Movie "The Mother" Release Date and Cast Revealed!
Lyle Lyle Crocodile Cast
Lyle is played by Shawn Mendes, who is joined by Skyfall actor Javier Bardem, who plays Hector P. Valenti, Lyle's charismatic owner who manages to track him down.
Constance Wu (Crazy Rich Asians), Scoot McNairy (Killing Them Softly) as parents Katie and Joseph, and Winslow Fegley (Night books) as their son Josh, who befriends Lyle after discovering him in their new home's attic.
Brett Gelman as Mr. Grumps and Lyric Hurd as Kara Delany round out the cast.
Also Check: The Batman 2 When is This Movie Happening or It Cancelled?
Lyle Lyle Crocodile Plotline
"When the Primm family moves to New York City, their young son, Josh, struggles to adjust to his new surroundings," according to the official synopsis. All of that changes when he discovers Lyle, a singing saltwater crocodile who lives in his new home's attic.
"The two become fast friends, but when evil neighbor Mr. Grumps threatens Lyle's existence, the Primms must join forces with Lyle's charismatic owner, Hector P. Valenti, to show the world that family can come from the most unexpected places."
So we can expect some great musical numbers, a heartwarming story, and a lovable crocodile in one film. That is quite a lineup!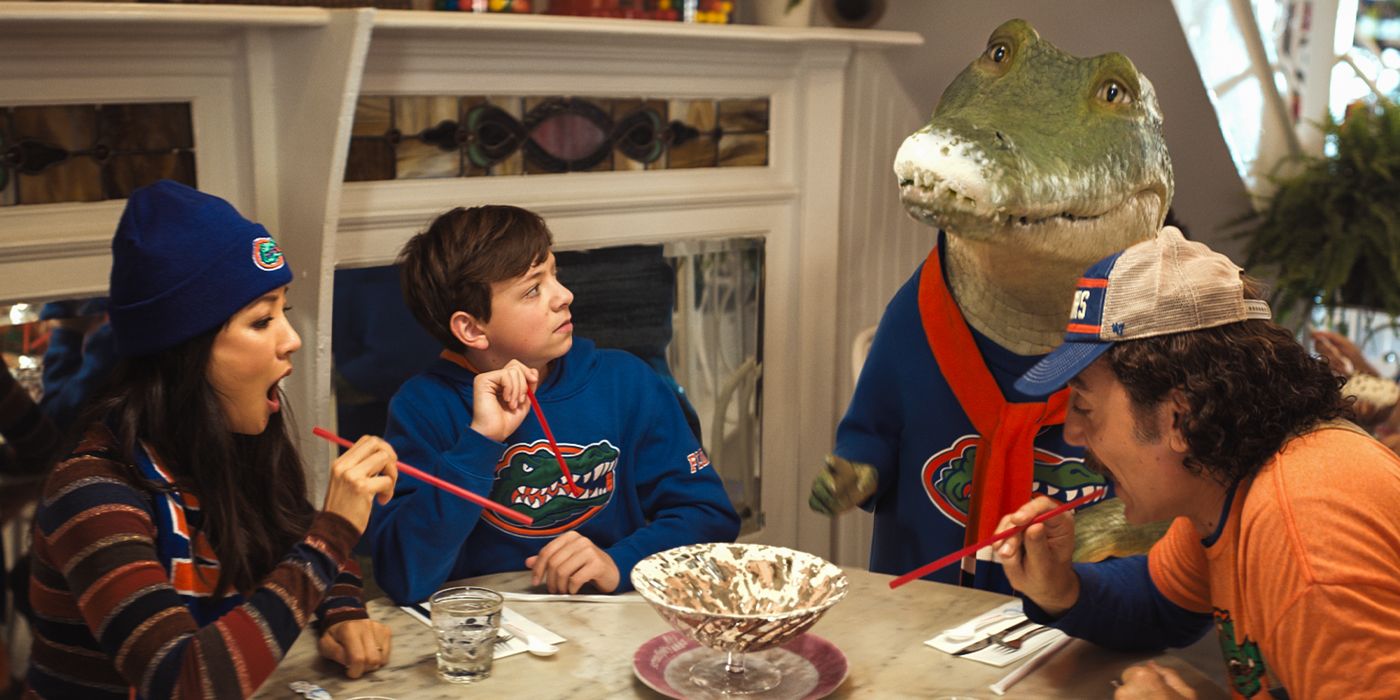 Lyle Lyle Crocodile About
It all starts with the Primm family's relocation to New York City. Josh, the house kid, struggles to adjust to his new surroundings, as do most children.
Then he notices Lyle, their attic's saltwater crocodile. But that isn't all. Josh has never seen a croc sing or boogie like this before. The two quickly become friends, and Josh has finally found his happy place. But, to his dismay, his parents appear to become concerned about having a carnivore in their home.
Or the fact that this creature can walk, talk and sing. Mr. Grumps, their next-door neighbor, is also dissatisfied. With everything working against them, Josh tries to keep Lyle from being taken away. Then Hector, Lyle's owner, arrives and demonstrates to the Primms how unique and fun-loving his pet can be.
Lyle's cuteness and charm quickly win over Josh's parents. But Mr. Grumps is still on the hunt for the croc, and Primm and Hector must work together to protect Lyle and his talent.
Read More: Percy Jackson 3: When is the Third Instalment of the Movie Coming Out?
Lyle, Lyle, Crocodile is ultimately about friendship and discovering that you can find your tribe in the most unlikely places, with the most unlikely people. In a nutshell, this is a traditional family comedy with a musical twist. Here's the official synopsis of the musical comedy:
Is There a Trailer Available for Lyle Lyle Crocodile?
Yes, a trailer featuring Shawn Mendes introducing himself and his character is available.
There's a lot going on in the trailer alone, with Lyle getting himself into all sorts of misadventures after being discovered, and the Primm's having to navigate life in New York alongside their unexpected crocodile tenant.
You can see it below.
Who Creates Lyle Lyle Crocodile?
Lyle, Lyle, Crocodile is directed by Speck and Gordon, who is best known for previous projects such as The Switch and Office Christmas Party. William Davies, the writer of popular comedy titles such as the Johnny English series, How to Train Your Dragon, and Puss in Boots, wrote the screenplay for the musical.
The new musical comedy will feature original songs written by the film's executive producers, Pasek and Paul, the team behind The Greatest Showman. The songwriting team also includes Ari Afsar, Emily Gardner, Xu Hall, Mark Sonnenblick, and Jonah Kwamé. The movie's music was composed by Matthew Margeson.
Where Was Lyle Lyle Crocodile Filmed?
Lyle, Lyle, and Crocodile were shot in various locations throughout New York City in September 2021.