The popular UK crime drama is ready to return to television screens after a six-year hiatus. When there was no statement from the team regarding the show's other season, viewers were left with little hope.
However, the show was given the go-ahead for a third season in 2021. So the excitement is palpable, and fans want to know everything about the new season, including the answer to the question, How To Watch Happy Valley Season 3 Episodes?
In the crime, drama, and family-themed program, James Norton played Tommy Lee Royce, Sara Lancashire played Catherine Cawood, and Siobhan Finneran played Clare Cartwright. George Costigan plays Nevison Gallagher, Adam Long plays Lewis Whippey, Steve Pemberton plays Kevin Weatherill, Joe Armstrong plays Ashley Cowgill, and Sophie Rundle plays Kirsten Askill.
Read more: Happy Valley Season 3 Release Date: Who Will Star in Season 3?
Recap of Season 1 of Happy Valley
Catherine Cawood, a crime scene investigator, first encounters the tough Calder Valley drug culture. Ryan, Cat's grandchild, is supposed to live with her sister Clare, who is now in rehabilitation from opiate addiction and has behavioral challenges.
It is revealed that Tommy Lee Royce, Ryan's father, was the guy who sexually abused Becky, Cathy's child. Cawood believes that this is what finally caused her teenage daughter to commit suicide not long after giving birth to her baby. Kevin Weatherill, an accountant, was currently employed. He works for Nevison Gallagher and is introduced as his father's best buddy.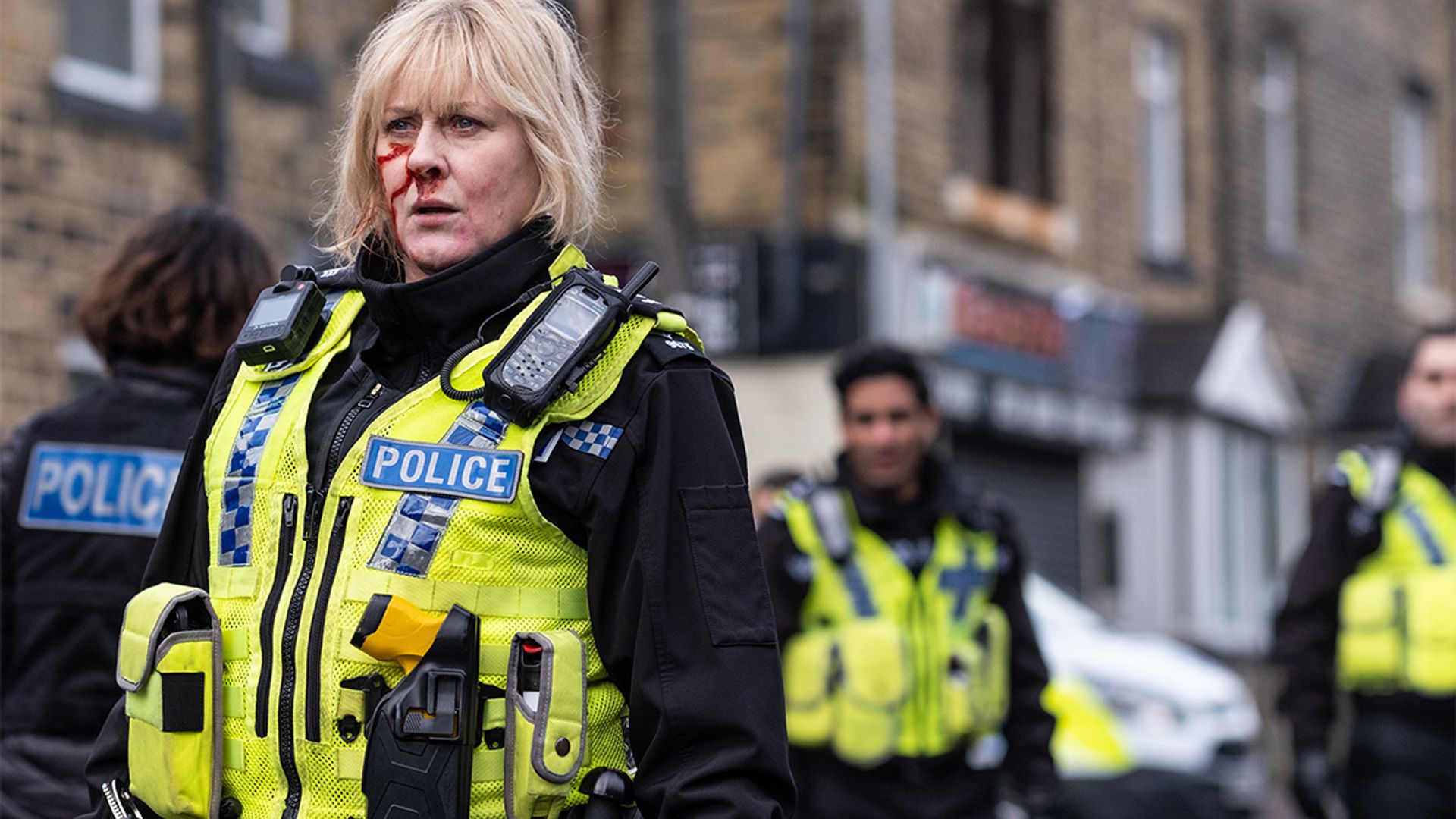 However, he is not as innocent as he appears! When he is unable to increase Kevin's wages, Nevison devises a scheme with neighborhood gangster Ashley Cowgill to abduct and hold his boss's daughter Ann for ransom.
Tommy Lee Royce and Lewis Whippey, two of Ashley's employees, are called in to help with the scheme. Kevin wants to quit his relationship with Ashley out of guilt, but it's too late. Lewis and Tommy have now kidnapped Ann.
When PC Kirsten McAskill pulls Lewis and Tommy over for exceeding the speed limit, things start to go south. When they come to a stop on the side of the road, the young cop notices quiet murmurs coming from the back of their automobile.
He's a pr*ck in gj and in this who knew Lmao #happyvalley pic.twitter.com/rjqIDPTQPj

— C H E L L E ♉️👒🤌🏻 (@beakybox) December 30, 2022
Tommy viciously runs down Kirsten as he seizes the initiative. Catherine and her coworkers are shocked to discover Kirsten's severed body by the side of the road. Following that, Catherine devoted the rest of the season to striving in vain to discover the offenders and save Ann, all while attempting to come to grips with the tragic fate of her child.
Later, on her way to see Tommy's mother, Cathy comes across Ann confined in the dungeon and assists in her release. After Catherine learns that Tommy saw Ryan privately after school, the inquiry must continue.
Then and now.

Happy Valley S3 | January 1st | BBC1

📸: BBC pic.twitter.com/H7uf4bgi0N

— Sarah Lancashire (@QueenLancashire) December 22, 2022
When Catherine discovers that Tommy is preparing to kidnap Ryan, she decides not to murder her adversary and instead waits until Ryan's bicycle is right outside the yacht where Tommy has been hiding. Instead, she keeps her grandson alive.
How to Watch Happy Valley Season 3 Episodes?
Happy Valley Season 3 episodes will be available on the AMC+ app and Crackle at the times shown above for fans outside of the UK.
Catherine Cawood. Then Vs Now 👮🏼‍♀️ #HappyValley pic.twitter.com/9XjZdPycIc

— BBC Happy Valley (@happyvalleybbc) December 29, 2022
The show will be broadcast live on BBC One in English. AMC+ costs roughly $3 for each view, whereas Crackel is free to all. Readers are encouraged to compare the release dates listed here to those in their location in order to view Happy Valley S3 episodes when they air.
Things to remember before the third season of Happy Valley
Tommy, played by James Norton, is a convicted rapist who is suspected of sexually abusing Catherine's child. As a result, Ryan, played by Rhys Connah, was born, and Catherine finally committed herself.
Tommy pursues Ryan just before the end of season one in an apparent murder-suicide attempt, but Cathy stops him. Tommy was sentenced to prison for kidnapping and raping Ann Gallagher, played by Charlie Murphy.
When Tommy served the second edition in prison, Frances Drummond, who played Shirley Henderson, was indoctrinated to help Tommy eventually make Catherine's life miserable. Frances, a solitary chemist who had grown to admire Tommy, duped the convict's little child—also Catherine's grandchild—by pretending to be his father in a letter.
She was Ryan's teacher's aide, and she commended Tommy to Ryan. Francis ended her connection with Tommy after realizing that he had many outside lovers after season two. He was enraged, though, because he thought Francis was the ideal choice to punish Cathy.
"I won't miss Catherine, but I will always look on her with great fondness as I'm not sure any other experience will surpass this. I'm nearly sixty, and that's ok. It was a phenomenal opportunity." #SarahLancashire #HappyValley
🔗https://t.co/lfKEskbJzZ
📸: BBC pic.twitter.com/cmi504pH8n

— Sarah Lancashire Spotlight (@CulturalEpiph) December 29, 2022
The most recent episode, however, revealed that Frances may be to fault for the biggest schism between Catherine and his child: viewers watched Tommy get a letter from Ryan in which he declared his love for his father.
Cathy investigated multiple fatalities that were finally linked to a young local rancher, Daryl Garrs, played by Robert Emms, during season two. He informed Allison, who plays his mother, and she shot him dead to keep him out of jail.
Alison died of an overdose and was arrested, but she survived. Clare, Siobhan Finneran's character, began dating O'Neill's character Neil Ackroyd; he plays Neil. Con has been a friend for a long time. They both have drinking problems, which concerns Cathy and leads to their disagreement.
Both of them relapsed, and Cathy was obliged to arrest Neil for public intoxication. However, at the end of the episode, he swears to look after Clare.
Final Words
For more information Visit our website to find out about a wide range of reality shows that are coming up or that are already on. Through our website, you can find out about a lot of other TV shows and online series.
If you share this article, it will motivate us to create more engaging content for you. And if you have any questions or comments Let us know in the comments, secession. Then do let us know in the comments section below. We enjoy reading your feedback & will provide you with a complete response. Thanks