In the first Creed movie, which was directed by Ryan Coogler (Black Panther), Adonis abandoned a good career to follow his love of professional boxing, but he didn't want to do it in his father's shadow.
He goes in search of Rocky Balboa, who trains Adonis to become not just a powerful fighter but also a better person.
Steven Caple Jr.'s (The Land) Creed II established that the previous movie wasn't an aberration by creating a fascinating story about Adonis becoming a spouse and parent and reintroducing Ivan Drago (Dolph Lundgren) and his son Viktor Drago (Florian Munteanu) as well-developed adversaries.
The Rocky saga appeared to have come to an end with Creed II since Sylvester Stallone announced his retirement from the character of Rocky Balboa. But soon after Creed II hit theatres, a third movie's production was revealed.
Happy holidays from the Creed family, to yours! #Creed3 pic.twitter.com/JcPdAw5HRx

— Michael B. Jordan (@michaelb4jordan) December 16, 2022
Michael B. Jordan will not only reprise his role as the title character and produce the movie this time, but he will also serve as the film's first director.
Creed III (2023) is looking to be a worthy finish to the trilogy with Ryan Coogler still working on it as an executive producer and Jordan prepared to show the world what he can do behind the camera. Here is what we currently know about Adonis's upcoming story before Creed III comes out early next year.
Creed III Release Date
Originally scheduled for release in November 2022, Creed III will now hit theatres on March 3, 2023.
We anticipate the third installment, like Creed and Creed II, to be released in theatres. Since there is currently no official statement on this, we will update this page as soon as we learn more.
A new look at Michael B. Jordan in 'CREED 3'. pic.twitter.com/ltlMatGqow

— DiscussingFilm (@DiscussingFilm) December 14, 2022
Where to Watch Creed III
The third installment of the Adonis Creed trilogy, Creed III, was initially slated for release in November 2022, however, it has now been revealed that it will arrive on March 3, 2023.
The #CreedVerse challenge. #Creed3
My version of @michaelbjordan as val zod #superman
And @jonathanmajors as Teth-Adam aka #blackadam
I had to jump on @bosslogic challenge.
What do y'all think?@creedmovie #Creed #rocky #DC #creedmovie @TheBLUniverse pic.twitter.com/oYqvGRAydU

— Ruben (@t800ruben) October 22, 2022
Creed III is presently anticipated to make its theatrical debut, just like the previous two movies. Regarding a streaming distribution, Prime Video appears to be the most likely option given its recent multi-billion dollar acquisition of Rocky series owner MGM.
Creed III Plot: What Could We Expect From This Series?
When we last left Adonis, he had just defeated Viktor Drago in a fight, putting an end to their long-standing feud after Apollo Creed's death in Rocky IV at the hands of Viktor's father, Ivan Drago (1985).
Almost all of the characters had reasonably pleasant endings. Rocky is able to reestablish contact with his estranged family, Ivan and Viktor decide to put their small-minded rivalry aside and concentrate on forging a healthy father-son bond, and Adonis comes to terms with his family's heritage.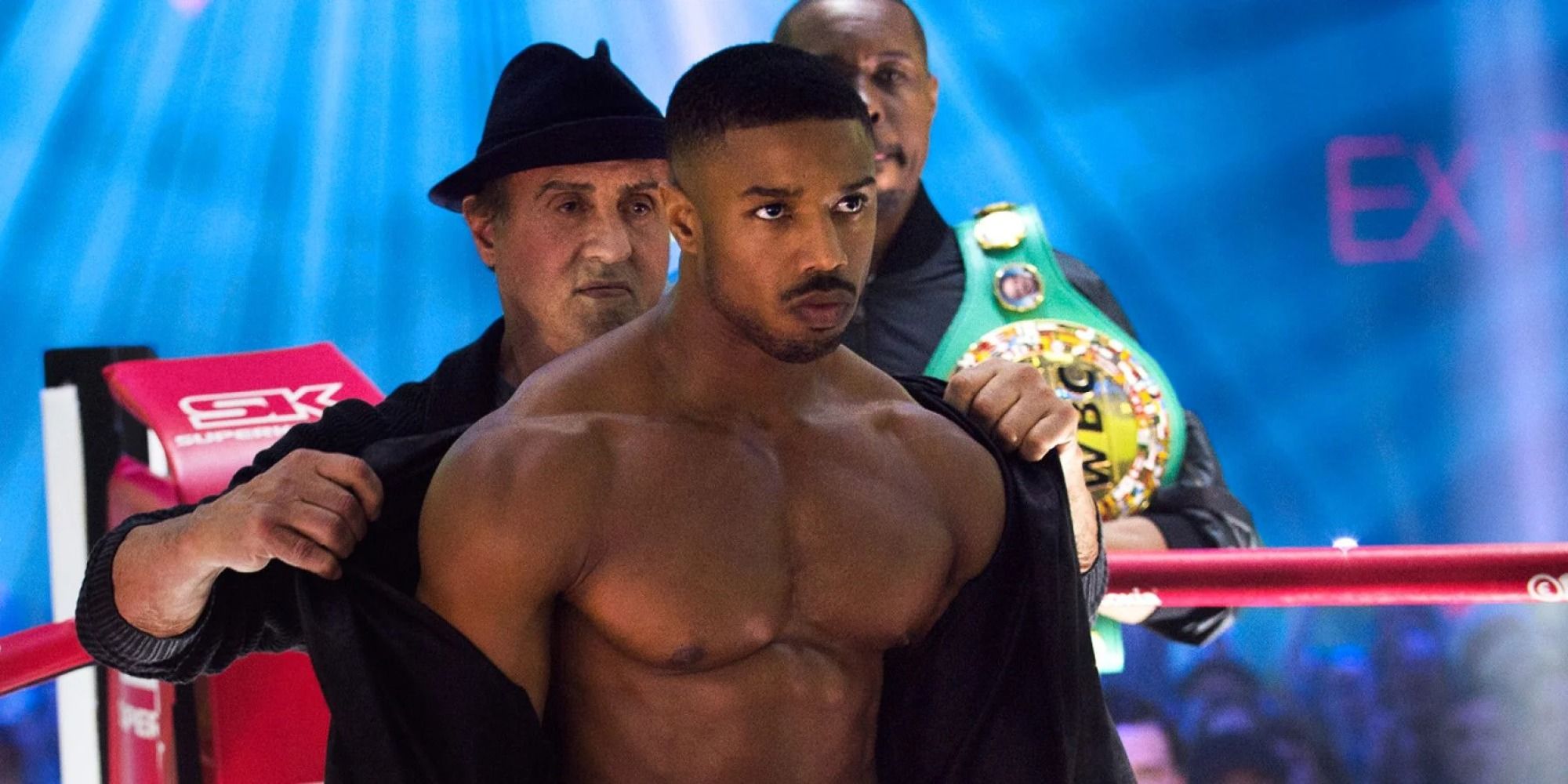 As opposed to following in the footsteps of other parental figures in this series who lost touch with their own children, the next movie in the series will probably focus on Adonis improving even more as a father to his daughter.
According to the official storyline summary provided by United Artists Releasing,
After dominating the boxing world, Adonis Creed (Michael B. Jordan) has been thriving in both his career and family life. When a childhood friend and former boxing prodigy, Damian (Jonathan Majors), resurfaces after serving a long sentence in prison, he is eager to prove that he deserves his shot in the ring. The face-off between former friends is more than just a fight. To settle the score, Adonis must put his future on the line to battle Damian – a fighter who has nothing to lose.

Creed III is the third installment in the successful franchise and is Michael B. Jordan's directorial debut.
Who is the Cast Member in Creed III?
Michael B. Jordan will return to the role of Adonis Creed's title character and also serve as the film's director. Phylicia Rashad (Soul) and Tessa Thompson (Thor: Love and Thunder) will join him as his wife Bianca Creed and his mother Mary Anne Creed, making this the first occasion that Rocky Balboa won't be there.
¿Confirman que estamos todos así después de ver el detrás de escena de #Creed3? 🥊😍 pic.twitter.com/5R4crflm9W

— Warner Channel (@WarnerChannelLA) December 23, 2022
The two major boxers from Adonis' previous two movies, who are both real-life boxing competitors, are also back. These actors include Florian Munteanu (Shang-Chi and the Legend of the Ten Rings) as Viktor Drago in the second movie and Tony "Bomber" Bellew (Creed) as "Pretty" Ricky Conlan in the first movie.
This would suggest that Jonathan Majors' portrayal of Damien Anderson in Creed is a fresh obstacle for Creed to face. Other well-known real-life boxers will also appear in the movie, including renowned cutman Jacob "Stitch" Duran, who returns from the first two movies, and boxing world champion Canelo Alvarez, who will make his acting debut as Saul.
Michael B. Jordan te invita a ver la creación de Creed III, la primera película de deportes filmada con cámaras IMAX. Enterate cómo fue llevar el próximo capítulo de la historia de Adonis a la pantalla grande y experimentá la película.
Próximamente en cines y en IMAX.#Creed3 pic.twitter.com/QxokUuwZdI

— WBPictures_Ar (@WBPictures_Ar) December 19, 2022
Salinas Leyva (Spider-Man: Homecoming), Spence Moore II (We Are Who We Are), and Thaddeus J. Mixson complete the cast (South of Heaven). Mixson, Thaddeus J. (South of Heaven).
Despite the "regrettable scenario" surrounding Stallone's departure, Jordan has assured fans that Rocky's influence would still be felt in the movie.
Final Words
Above, we talk about the movie's release date, cast, where to watch it, and plot. Originally scheduled for release in November 2022, Creed III will now hit theatres on March 3, 2023.  Kindly read again if you missed some information about this show.
For more information Visit our website to find out about a wide range of reality shows that are coming up or that are already on. Through our website, you can find out about a lot of other TV shows and online series.
If you share this article, it will motivate us to create more engaging content for you. And if you have any questions or comments Let us know in the comments, secession. Then do let us know in the comments section below. We enjoy reading your feedback & will provide you with a complete response. Thanks.
Frequently Asked Questions
Who will be the villain in Creed 3?
He's not a mustachioed bad guy; I wanted people to understand him and find it challenging. Those, in my opinion, are the most challenging and fascinating to observe. In Creed III, the antagonist will be embodied by Jonathan Majors as Damian "Dame" Anderson; there is no opponent quite like the past.
Why Rocky is Not in Creed 3?
Rocky Balboa was announced to be sitting out this round in April 2021. In response to Stallone's absence in Creed III, Michael B. Jordan stated that it was time to focus only on Adonis Creed.
Is Sylvester Stallone going to be in Creed 3?
We've known for a while that Sylvester Stallone will not be returning to reprise his role as Rocky Balboa in the upcoming boxing sequel/spinoff Creed III, but it turns out that Stallone wants to "never" see it.